STARS & STRIPES - BRICK
PRE ORDER : SHIPPING JANUARY 20TH
COW LEATHER
Description
We gave ourselves a lot of references for this incredible piece. It's a bit like the leather we've always dreamed of: the one you look back on, the one you flash on, because even if you can't say everything it evokes, you like it...
If you have the same references as us, the same retro culture that drives you....Here are a few hints to decode our favourite:
THE STYLE : Vintage Racing. The vintage GP motorbike jacket. I think that was the starting point. We've always been fascinated by those multi-coloured leather jackets with big logos in stitching. Remember; those coloured inserts, which give an unmistakable style, as produced by HONDA. These vintage pieces, which are sold today as real treasures of the time, were often decorated with large embroidered or applied logos in contrasting colours, in the colours of the major sponsor of the time: MARLBORO, LUCKY STRIKE, or CASTROL... All the symbolism of the time which no longer exists today, but which made us nostalgic, and which we wanted to retranscribe, in one way or another   
THE COLOURS : Well obviously, vintage style, the seventies, if you know us, that's our thing. The Mac Queen style, or for those in the know, the super stylish look of the heroine Julie Wood, is clearly what inspired us. Mixing vintage racing style with seventies colours and the chromatic style of the time was the challenge. The result is a two-tone jacket, orange and cream, or khaki and cream, with some logos applied in a contrasting colour. A chromatic trio that made us wildly indecisive, and led to some intense debates! 
THE CUT....It obviously needed a feminine cut, because even if this jacket is inspired by the GP jackets of the time, they were masculine, large and imperfect for a female morphology. So we went to another universe of predilection made in Wildust... The Wild West, (you even know), and the good old cow girls jackets. The fitted cut, the stars in stitching on the sleeves and the back are clearly inherited from this Western universe. Just like the cowboy boots and the stars on the belt buckles, we couldn't resist giving this jacket a neo-country look that made us travel so much!
In short, you will have understood, a little GP, a touch of western and a lot of AMERICAN VINTAGE SPIRIT... It gives this "Stars & Stripes" jacket absolutely exceptional.
Made of cowhide leather, it is soft and robust at the same time. A satin lining provides the necessary thermal comfort, it has an inside pocket, a central zip and a pilot collar with snap. Two zipped pockets on the front and two zips on the sleeves for added comfort.
We were about to forget the most important thing. It is beautiful: YES BUT! As well as being absolutely gorgeous, it's also a motorbike jacket. This means that YES, you can insert motorbike protections inside: a pocket for the back protector, 2 pockets for the shoulder protectors and 2 pockets for the elbow protectors are integrated in the lining (not delivered with the jacket)
Because the most important thing for Wildust is to offer motorbike clothing without compromising style and protection. Riding protected of course, but not at the expense of style. That's why this jacket could be a favorite for anyone. An adventurer, a fan of the seventies, a girl who rides. or NOT! :-)
Product Details
DESIGN & CUT

2 front pockets
AVIATOR COLLAR
Inside Pockets for Protectors (Back, Shoulders, Elbows)
Metallic Zipper Closure
Original Wildust Design
Overstiched Details (Stars) Back & Arms
Slim Fit

MATERIAL

Cow Leather
Quilted Linnning
Specific References
ean13

3760370043195
You might also like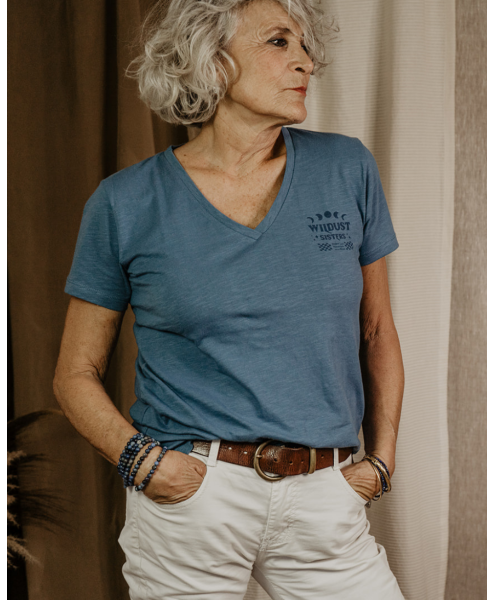 Quick view
Regular price
€32.50
-30%
Price
€22.75
ORGANIC FLAMED COTTON